Project Overview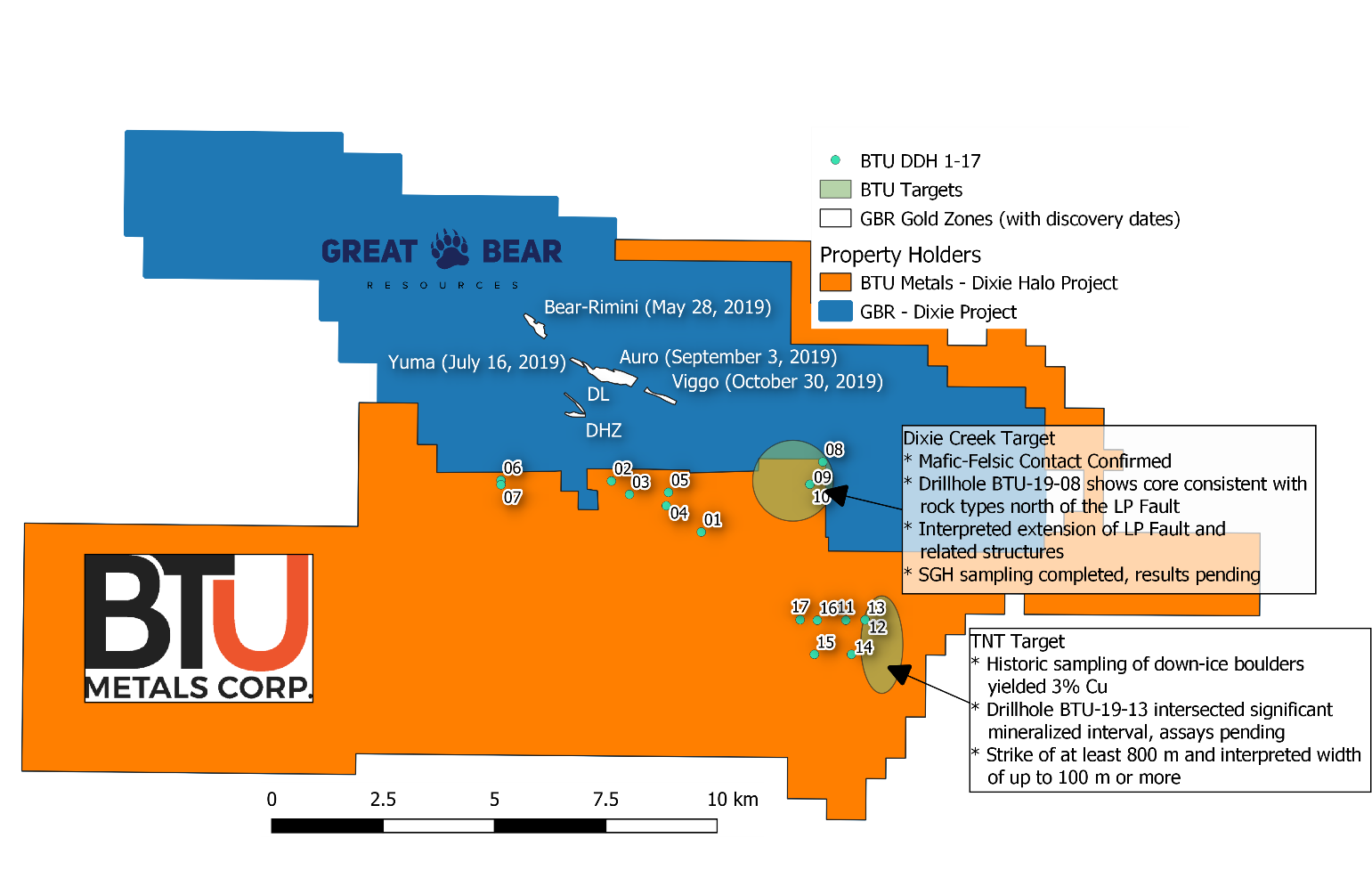 The Dixie Halo gold project totals approximately 14,770 hectares and borders much of Great Bear Resources Ltd.'s (TSX-V: GBR) Dixie project. Great Bear has reported gold mineralization being confirmed along a 3.2 km strike of a 18 km target. The system at Dixie has a high-grade gold zone that includes recent intervals of 16.35 metres of 26.91 g/t gold and 7.00 metres of 68.76 g/t gold and is open along strike and at depth.
Historically Unexplored
The Ontario Drill Hole Database reveals just how underexplored the Dixie Halo property is relative to the neighboring Dixie Project. There are fewer than two dozen historic holes in BTU's property, while Great Bear's Dixie Project had hundreds of holes in it prior to their acquisition.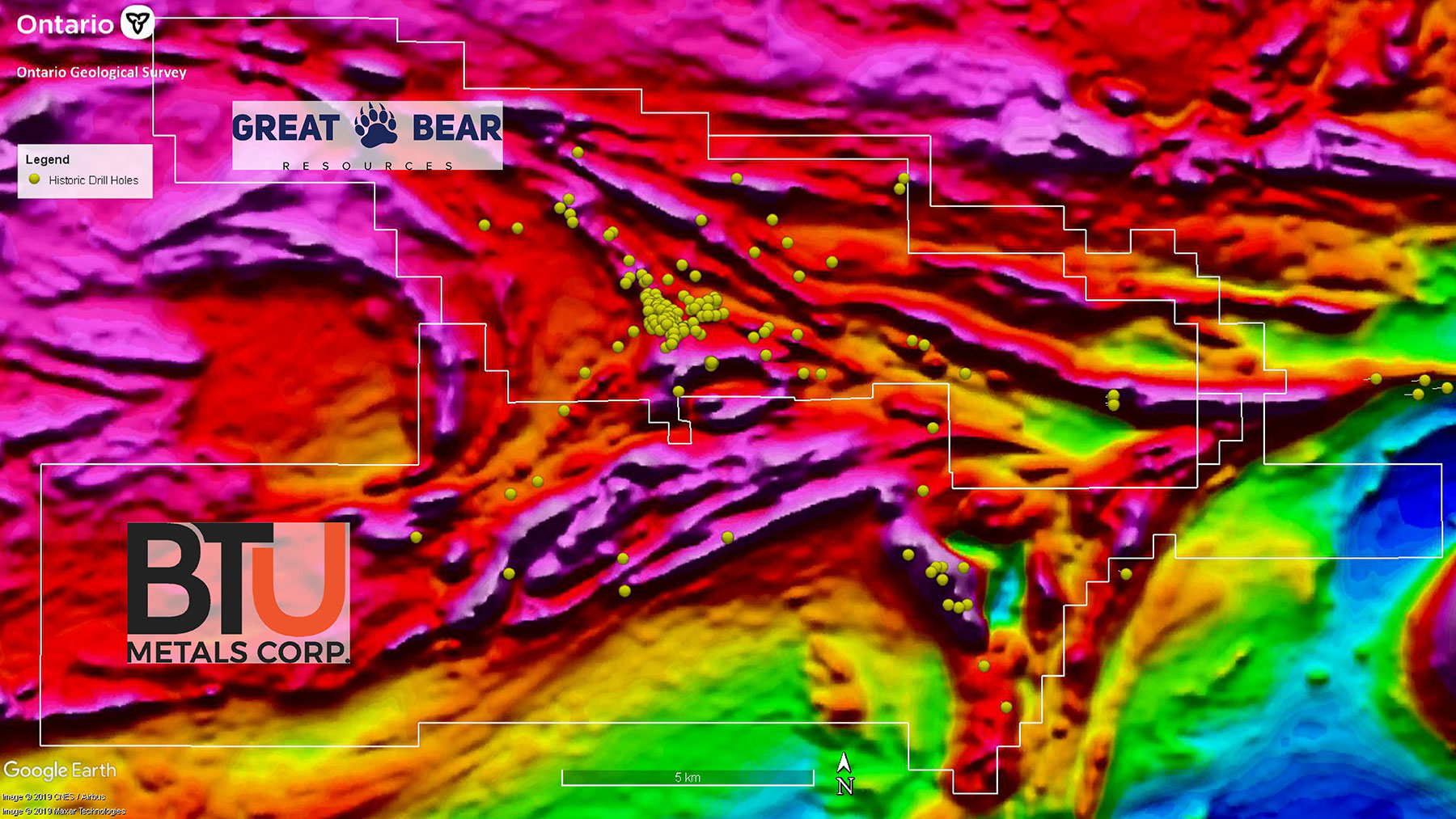 Even though extensive glacial cover hindered past exploration, the geophysics clearly show the same high-strain package of prospective rocks with lots of structure that would be ideal for channelized fluid flow and metal precipitation extending onto BTU's ground. BTU has about half of the wedge of high-strain rocks that have been squeezed between the surrounding plutons.
Historic Work
Prior exploration at Dixie Halo South included trenching, power and manual stripping, prospecting, and limited sampling. Gold values obtained from surface sampling include values up to 4.61 g/t gold in association with 283 g/t silver and 11.5 per cent copper from a limited 2013 grab sampling program.
A HELITEM EM/MAG survey was conducted by the vendor in 2012. Processing this data resulted in 30 gold and volcanogenic massive sulphide targets being outlined, six of which are currently being focused on.
The first detailed maps of the property were created with the assistance of Tony Pryslak, BTU technical advisor and former resident geologist with 50 years of experience in the Red Lake area.
"Mr. Pryslak is a well-respected geologist with decades of gold and base metal experience within Red Lake and northwestern Ontario."
Douglas Hunter, M.Sc, P.Geo
BTU Technical Advisor
Current Targets
Dixie Creek
Mafic-Felsic contact confirmed
Drill hole BTU-19-08 shows core consistent with rock types north of the LP Fault
Interpreted extension of LP fault and related structures
SGH program completed with results pending
Among drill targets to be tested is a fence of holes to test strong, broad IP chargeability anomalies on what appears to be the strike extension of GBR's newly recognized LP Fault structure. This structure hosts high grade gold at several locations along several kilometres and the structure is reported to be 18 km in length. BTU geologists believe the southeastern portion of this fault crosses BTU's ground into the Dixie Creek target area. Other sub-parallel structures have been interpreted to be present or extend on to the Dixie Halo property. Select core continues to be logged, sawn and shipped to the lab for assays as the holes are completed.
A Spatiotemporal Geochemical Hydrocarbons soil sampling program has been undertaken to help define additional targets; This technique has been proven successful at identifying gold zones further along the LP fault by Great Bear.
TNT
Historic sampling of down-ice boulders yielded 3% Cu
Drillhole BTU-19-13 intersected significant mineralized interval (assays pending)
Strike of at least 800 m and interpreted width of up to 100 m or more
BTU has discovered compelling indications suggestive of a notable volcanogenic massive sulphide (VMS) referred to as the TNT Target. Partial assay results in the target area have identified polymetallic mineralization, including chalcopyrite enriched in both copper and gold, which is extremely rare. Additional drill permits have been received and drilling of the area has commenced to begin further exploration at this location.
"The discovery of the new TNT Target is an attestation to our geological team's methodical work; It adds a new dimension to BTU's exploration campaign and is testament to the potential for discoveries on the Dixie Halo property."
Paul Wood
CEO & Director
BTU recently contracted an airborne geophysical survey of the TNT Target and the resultant data is currently being evaluated. Additional ground geophysical surveys are underway between the chargeability/resistivity lines that were separated by 800 metres in order to give a better understanding of the size and geometry of the target. This work is anticipated to be done by the end of the month which will further guide the drilling slated for December 2019.
Importance of VMS Mineralization in Canada
VMS style mineralization is one of the primary sources of copper and zinc production in Canada. Some VMS systems are enriched in gold and in some cases the contained gold is worth a significant portion of the value of those deposits. Examples would include: the polymetallic mines of the Flin Flon-Snow Lake District and the Horne copper-gold deposit in Noranda.
Historic interest in the potential for VMS discoveries in the area was in large part driven by the discovery of the South Bay VMS deposit which was discovered in 1968 and later mined between 1971 and 1982 by Selco. It is well known in the industry that VMS deposits tend to form in clusters within mining camps, with several or even dozens of discoveries being in the 1-5 million tonne range, and with occasional deposits being tens to hundreds of millions of tonnes. These deposits are known to be high dollar value deposits that are relatively easy to define, develop and mine.